Lake Ōhau fire two years on
On October 4, 2020, almost 50 homes were destroyed during the Lake Ōhau fire, one of New Zealand's largest-ever wildfires on record.
On October 4, 2020, almost 50 homes were destroyed during the Lake Ōhau fire, one of New Zealand's worst-ever wildfires.1
Two years on, we caught up with Tower customers Nyree and Pieter Schaar in their new home, completely rebuilt by Tower, amongst one of the most stunning landscapes in the country. 
Meeting with the Schaar's reminded us of how important our role is to make things easier on people's journey to recovery. 


Tower customers, Nyree and Pieter Schaar's home rebuild story
"The morning of the fire we got a phone call from our neighbour to 'get out', we looked out the door and there was an orange haze coming towards us," says Nyree.
"Our daughter wasn't home, but our son was so, we woke him up and grabbed what we could; the dog, cat, laptops, and passports. There's no clear thought on what to take in a situation like that."
While the Schaar family were still throwing things into the car, their cat Whiskers had managed to jump out and run away. Nyree had gone back into the house one last time to grab her handbag and some documents, thinking Whiskers might have gone back inside, she checked the couple's bedroom and thankfully, she was sitting right there.
"Had the dog or the cat not got out I would've been distraught. We were also lucky that my husband's hard drive was plugged in in the garage which had baby photos and things like that digitised of the kids."


Five minutes to evacuate
From when they received the call to evacuate, the Schaars took just five minutes to vacate their home. By the time they got in the car, flames were a metre from the house, and they raced out their driveway, lined with trees already ablaze.
The Schaar's property is nestled right on the Ōhau lakefront. They'd built the home in 2007 and had lived there since 2010, kids Josh now 19 and Emily now 16, along with Rex the dog and Whiskers were all raised there.
"We have pictures right from when they were little. Emily turned one when the house was built, we have pictures of the kids playing in big boxes in the kitchen during the kitchen install. They grew up there."
Once safe on the other side of Lake Ōhau, Pieter used his long lens camera to assess the damage.
"We knew driving away that it was gone. You can't have flames that close to the house and still have a home," says Nyree.
"I wasn't sure what we were insured for, and I had an awful feeling we weren't insured for enough. I had just been burying my head in the sand in a bit of a daze. We'd paid to build our home, friends and family helped with labour and we'd done a lot ourselves. We couldn't afford to replace it."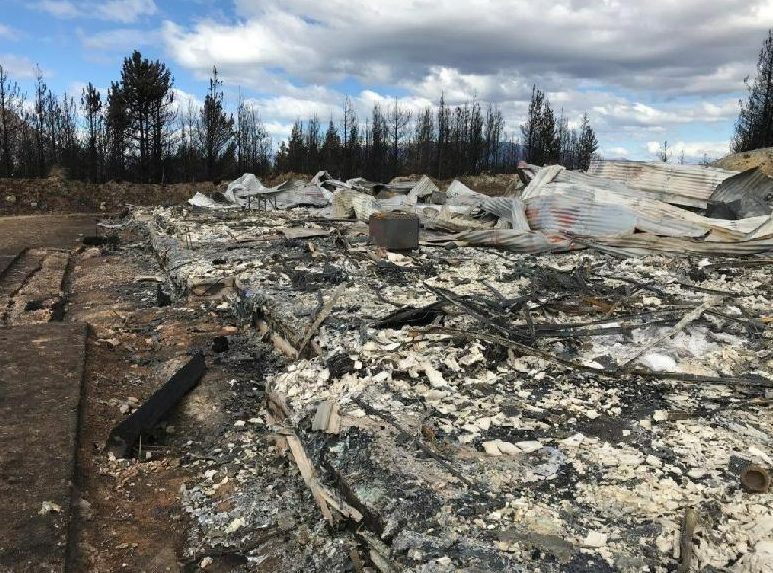 Happy with the Tower service
"By lunch time that day our house was gone, and I thought 'okay this is serious now'. I called Tower and they were incredibly helpful, they paid us $1,000 upfront to buy necessities and confirmed we had enough cover to rebuild. My reaction was 'oh thank God'."
"We've still got a mortgage. We'd probably be living on site right now in a caravan if we didn't have insurance."
Over the next week a Tower representative checked in daily with the family. Within a week they'd been assigned a Claims Manager.
"He was in contact pretty quickly and organised the removal of everything from the site. Overall, we've been happy with the service provided. Our builder, M2 Developments, were superb."


The importance of insurance
Nyree says the family was "so relieved" when they got the keys to their new home in June 2022.
"We rebuilt the same house with some minor changes. We were sitting there the first night and all said it felt exactly the same, even the cat only took about 20 minutes before she was settled."
"You don't think it will happen to you but having gone through something like this, you wouldn't go without insurance. Our advice is, you don't know what's around the corner – near 50 buildings in one village, no one has spare money like that. You've got to have insurance, it's worth it."
1 Source: Lake Ohau Fire | Stuff
Looking for house insurance?
Buy an eligible house policy by 17 Feb and be in to win a year's premium up to $2,500.* Prize drawn 25 March.
*Excludes Contract works. Ts&Cs apply.