About us
Want to know more about Tower? You've come to the right place. Here's where you'll find a bit more information about our history spanning over 150 years, our leadership team, and our commitment to taking care of New Zealand and the things that matter most to you.
For over 150 years Tower has been helping Kiwis and Pacific customers protect their home, car, business and things they love. At Tower, we are undertaking a transformation that leads to higher growth through a relentless focus on our customers. We have proven ourselves to be resilient and robust in a difficult time for the New Zealand economy and have an exciting future ahead of us.
We are focused on delivering beautifully simple and rewarding experiences for our customers. To get there we have set out a number of clear strategic priorities aimed at helping us to grow and innovate, as well as to build financial strength and capability as a company.
Tower operates in New Zealand and across seven Pacific Island nations, providing our customers with cover for their houses, cars, contents, businesses and more.
Tower is the last listed New Zealand general insurer (also listed on the ASX), with a market capitalisation of $265.64m representing a strong base of international, institutional and 28,000 individual shareholders.
At Tower we're proud to recognise and celebrate diversity and inclusion in everything we do.
We're nimble, energised and focused on what matters to our customers. We're combining a creative and innovative mindset with brilliant digital, data and technology to take insurance to an entirely new level in New Zealand.
With over 150 years of experience, we aim to give Kiwis and their communities an insurance experience they can rave about.
If you would like to join us on this journey, check out the latest jobs we have here.
As of August 2021, our head office is based at 136 Fanshawe Street - a new, world-leading 6 Green Star Building in Auckland's CBD.
Green Star is an internationally recognised system which rates a building's overall environmental impact across nine categories including energy, emissions, land use, and innovation.
Our new home at 136 Fanshawe Street was designed, developed, and constructed with sustainability in mind. The building is equipped with cutting-edge technology aimed at saving energy and cutting waste.
It's allowed us to create dynamic workspaces for our employees who are now based on one floor instead of being split across multiple levels. In our new space we're embracing technology making it easier to collaborate, communicate, and work in an agile way.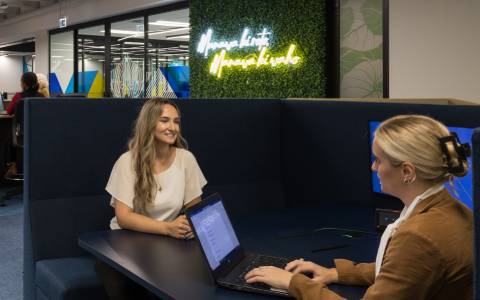 Executive leadership team
Meet our people leading Tower day to day.
Board of directors
Meet the people overseeing Tower.
Tower origins go back to 1869 when the Government Life Insurance Office (Government Life) was created in New Zealand, with its initial capital provided by the New Zealand government.
Government Life became a separate statutory body with the passing of the Government Life Insurance Act in 1953. It was renamed Tower Corporation in 1987 and in 1990 ownership was conferred to its policyholders with the passing of the Tower Corporation Act, allowing Tower to be owned as a mutual association.
To remove growth constraints resulting from difficulties in accessing new capital under the mutual association structure, Tower undertook a demutualisation process in 1999 with the approval of its policyholders and the High Court. The effect of this was to convert Tower's legal status to a shareholder owned company. Subsequent to the demutualisation, Tower Limited undertook a listing on the Australian and New Zealand stock exchanges in September 1999. In November 2006 Tower's New Zealand and Australian businesses were separated with the approval of its shareholders and the High Court.